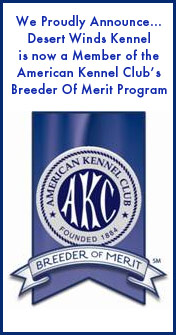 Latest News and Announcements:...
Our boxer girl, Deedee, Irondale N Desert Winds Destiny, is our newest CHAMPION. She took Winner's Bitch for a 4 POINT MAJOR at Silver Bay Kennel Club on February 27th. On Sunday she went Best Opposite Sex, her first time in the ring as a special for a 4 POINT MAJOR towards her Grand Championship.


We are excited to announce that a Boxer breeding has been confirmed by ultrasound of MBISS MBIS AM GCH CAN CH Duba-Dae's Who's Your Daddy SOMG SOMC "Bosco" and GCH Irondale's Jersey Shore, "Jersey".



The litter is due in late March with puppies available in June. Please visit the puppies page for more information.


Grand Champions ...
Desert Winds is proud to present our growing list of Grand Champions:
Buzz, GCH Desert Winds Hollywood Sequel (Bullmastiff Male)
CJ, GCH Desert Winds Spirit of Meritage (Boxer Male)
Hazel, GCH Desert Winds I'm Bringing Sexy Back (Bullmastiff Female)
Henry, GCH Desert Winds King Henry (Boxer Male)
Joy, GCH Desert Winds The Joy of Life (Boxer Female)
Lil Rae, GCH Desert Winds Lil Rae of Sunshine (Boxer Female)
Pink, GCH Desert Winds Look of Love (Female Boxer)
Solo, GCH Desert Winds One Step Beyond (Boxer Male)
Tawny, GCH Desert Winds Long Road to Ruin (Bullmastiff Female)
Woody, GCH Hollywood (Bullmastiff Male)