Puppy News!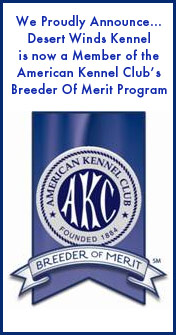 BOXERS: Six Boxer puppies were born on November 21st from a breeding between Zeus, CH Desert Winds King of the Gods, and Jersey, Irondale's Jersey Shore. This breeding produced 2 boys and 4 girls.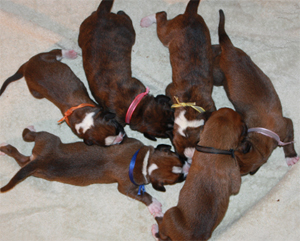 We are now accepting puppy applications and deposits on the entire litter.

Please check our puppies page which will be updated with more information and pictures as they become available.
---
BULLMASTIFFS: One female show puppy is available from the repeat breeding between Woody, GCH Hollywood and Pepper, CH Desert Winds Rollercoaster O' Love.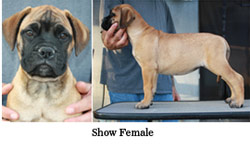 Latest News and Announcements:...
Jax, Desert Winds Big Red This Life Is For You, took Best of Winners and Best of Breed for a 3 Point Major at Lompac Valley Kennel Club. Jax is just 10 months old and has 11 points with both majors all from the puppy classes.


Our new girl, Jersey, Irondale's Jersey Shore, took Winners Bitch at the host club Blue Grass Boxer Club at the American boxer club Nationals for a 5 Point Major. Jersey finished her championship at the Bahia Sur Kennel Club in June.


Grand Champions ...
Desert Winds is proud to present our growing list of Grand Champions:
Buzz, GCH Desert Winds Hollywood Sequel (Bullmastiff Male)
CJ, GCH Desert Winds Spirit of Meritage (Boxer Male)
Hazel, GCH Desert Winds I'm Bringing Sexy Back (Bullmastiff Female)
Henry, GCH Desert Winds King Henry (Boxer Male)
Joy, GCH Desert Winds The Joy of Life (Boxer Female)
Lil Rae, GCH Desert Winds Lil Rae of Sunshine (Boxer Female)
Pink, GCH Desert Winds Look of Love (Female Boxer)
Solo, GCH Desert Winds One Step Beyond (Boxer Male)
Tawny, GCH Desert Winds Long Road to Ruin (Bullmastiff Female)
Woody, GCH Hollywood (Bullmastiff Male)